This course provides a basic study and application of commonly utilized welding processes as well as additional topics such as weld joint design, position and welding quality control. Students will prepare for their welding education, as well as their welding career through exposure to the welding lab environment and text book materials. Students will also train with the latest Virtual Welding Simulator depending on the school location. In addition,this course will prepare students to take nationally recognized AWS/ASME certification exam(s). - Workplace safety/PPE training -OSHA-10 -Resistance welding (Oxy-fuel cutting) -Introduction to Shield Metal Arc Welding ( Stick) -Introduction to Gas Metal Arc Welding (GMAW) -Introduction to Gas Tungsten Arc Welding (TIG) -Demonstrate 1 and 2G (flat-horizontal) welding positions as well as 1 and 2F (T-joints) in all three welding processes mentioned above -Learn basic welding terminology and definitions per AWS standards and shop safety -Maching parts, machine set-up/break down -Fire protection and prevention -Discuss the current trends and opportunities in the welding field today
Intermediate (MIG) Gas Metal Arc Welding
Exhibits safety practices involved in MIG, constant voltage and wire feed welding. Weld with hard wire using short circuit and describes the gases used in gas metal arc welding. Provides safety practices involved in gas metal arc, intro to welders math and touches on weld and welding symbols used in blue prints and drawings. - Weld and welding symbols - welders buleprint reading - Perform 1,2,3G (flat, horizontal, verticle) and 1,2,3F (T-joint) - Ability to identify weld defects/flaws - Understand basic metallurgy and charateristics - Identify and learn weld types ( joints, tacks, fillet welds, etc.) - Prepare for AWS 3G certification standards and MIG II course
ALL STUDENTS RECEIVE MEMBERSIPS WITH AWS: AWS Student Members are eligible to apply for Transitional Membership following four years of continuous Student Membership or upon graduation, whichever occurs first. Transitional Members will continue to enjoy their existing benefits for up to three years before upgrading to Individual Member status. For more information, or to upgrade today to Transitional Member status, contact the AWS Membership Department.
Intermediate SMAW (Shielded Metal Arc Welding)
Provides students with knowledge of shielded metal arc welding operations and equipment. Provides extensive practice time to produce the skills to make satisfactory welds with this process. Emphasizes safety hazards and safety practices in arc welding. - Identify the five-basic welding processes - Identify heat input and metal - Describe the capabilities of electric welding - Tack welding, single and multi-passes - Weld in flat, horizontal, vertical (1,2,3 and over-head) positions - Identify SMAW electrodes and their classifications - Recognize reverse polarity, use proper electrode manipulation for each type of weld placement - Utilize proper correct technique for each welding position and electrode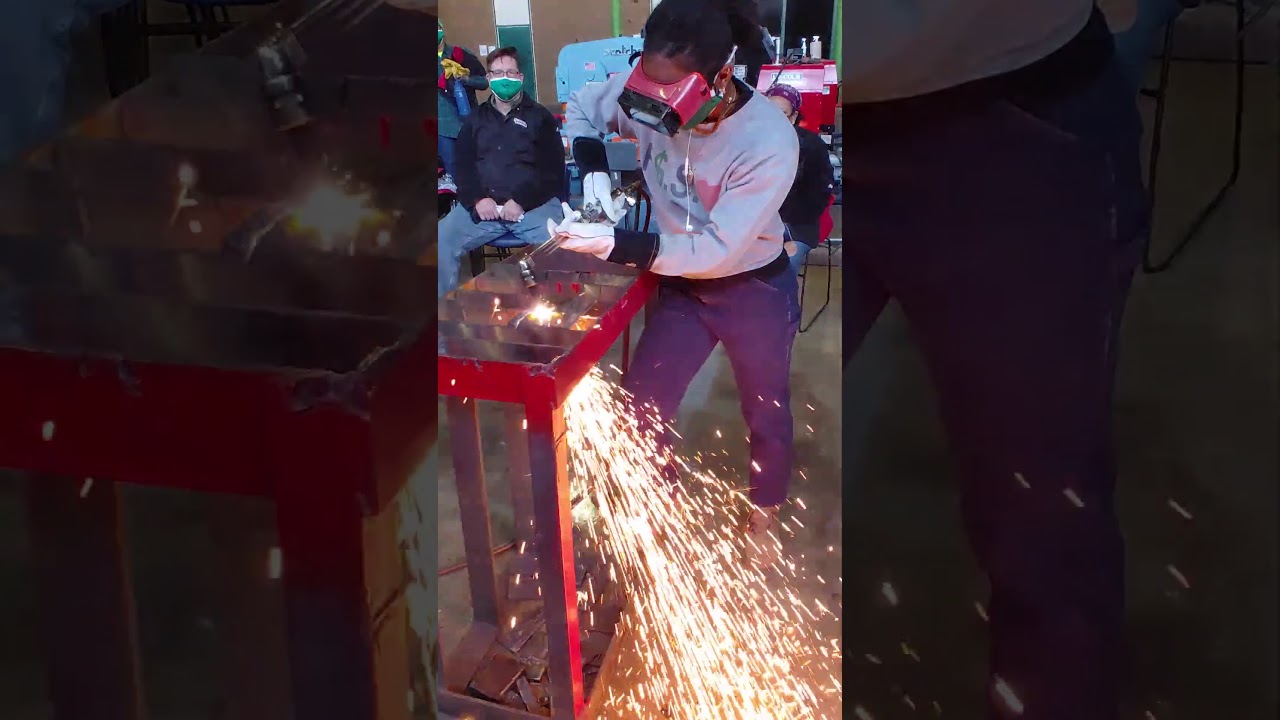 We Work With All Types Of Metals. (spealiality metals upon request only) Arrangements will be made.
Mild steel

Cast iron

Galvanized metal
Stainless steel

Copper

Titanium
If you would like to know more about us or have any questions about our welding courses, please give us a call or send us an email. We can't wait to hear from you!